Editor's Note: CAL: The Perfect Marriage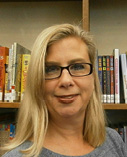 Fifteen years ago, when I was working full-time as an editor in a small town in Wisconsin, a library friend of mine passed along a job opening to me. Seems ALSC was looking for an editor for its division magazine to be called Children and Libraries. The friend, aware that I had a library degree, thought the job seemed right up my alley.
While I was confident in my journalistic skills, it had been a few years since I dusted off my library chops. Sure, I visited my local library weekly and offered to help in any way possible, but the last time I had worked professionally, we had card catalogs and there was no such thing as Wi-Fi.
I figured I didn't have much of a chance, but even though I was happy as a writer and editor, I was looking to use my library skills again. So I sent in my resume . . . and got an interview!
Fast forward to today. I know, time flies, but it really is true. It was always my goal to make Children and Libraries more than just a trade publication and journal of record for ALSC. I wanted it to be filled with more than just board actions, department news, and refereed articles—not that those aren't important, but I wanted CAL to be engaging as a good read as well. And I hope we've accomplished that.
We've had outstanding theme issues relating to the seventy-fifth anniversary of the Caldecott Medal, services to special needs populations, the makerspace movement, and more. We've featured articles by and about some literary greats, including my personal favorite, David Wiesner.
I remember my first year, attending my first ALA conference, worried about filling the magazine and nervous about making contacts. But somehow, it all worked out, and attending these conferences twice a year has been a highlight of my fifteen years. One highlight was traveling to New Orleans in 2006, which was memorable not only because it was our first conference post-Hurricane Katrina, but because I was pregnant with my daughter, Holland (in the scorching summer Gulf Coast heat!).
A second highlight was getting stranded a few years ago in Chicago—just five hours from my home in Green Bay, but unable to get back in a timely fashion due to the blizzard of the decade!
I'm so proud to have made so many contacts and still enjoy working with such a fine group of librarians. And, no, this isn't my swan-song editorial, although it may read that way!
I hope to continue to represent ALSC and produce CAL for as many years as they'll have me. Thanks for all your continued support . . . and for indulging me my memories! &