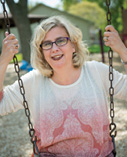 Editor's Note: Awards Always Get Me
I'm an awards show junkie. I'm just going to put that out there.
I love watching the Emmy Awards. I have Academy Awards parties. I'll even watch the ESPYs, though I have little interest in sports. I love the suspense . . . the pomp . . . the circumstance. It's little wonder then that I'm just as enthralled when I attend the Youth Media Awards announcements.
For those of you who have attended in person, I know you have felt that rush—it happens most often when a book you love or an author you admire is announced as the winner. If you've been in the room, you have heard the squeals of joy or the gasps of surprise (at times) and witnessed the jumping, cheering, clapping, and sometimes the matching hats and T-shirts of those lucky enough to be on the awards selection committees.
It's an early morning for attendees and an even earlier one for the committee members charged with making that all-important (and, no doubt, ultimately life-changing) phone call to the winners.
The buzz is just contagious. And now for the last few years, thanks to technology, those of you who cannot attend can follow in via live streaming. It's not quite the same as being there, but it may be even better—as you watch with your colleagues at the library or in your jammies in the comfort of your couch!
I hope you, like me, can feel the energy—either in person or vicariously—of these amazing awards. I know many of you participate in mock Newbery and Caldecott voting in your schools and libraries; that's another great way to get involved and gauge interest from those who matter most—the kids!
Now, on to my second favorite thing—stalking (I mean, watching for!) the winners at the ALA Annual Conference in June, where it's always a delight to see the lines snake around the aisles for their signings, and to see them all dressed up and beaming at the awards dinner.
I know I'm blessed and lucky to have the opportunity to witness this all in person—and I wouldn't trade it for the world . . . except maybe for a front-row seat at the Oscars! (Kidding!) &
Refbacks
There are currently no refbacks.
© 2023 ALSC