Beyond Storytime: Virtual Augmented Reality, AI, and Arts Programs for Middle Grades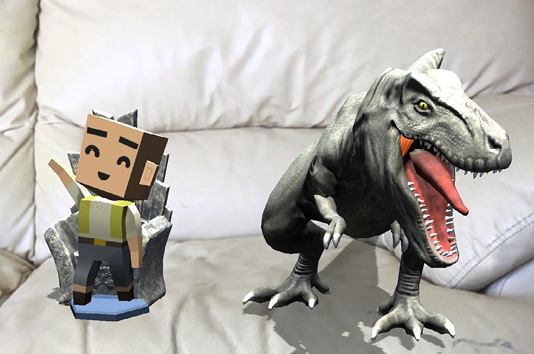 When the COVID-19 pandemic hit, the West Van-couver (BC) Memorial Library was well-positioned to make the transition to a fully virtual program model—fortunate to have the support of a library foundation and to have two dedicated digital access librarians.
But in this time of great transition, we were still left wondering how we were going to offer complex programs on topics like augmented reality (AR) in a virtual environment. We found great success with the Flipped Classroom model, where kids and families do some downloading, experimenting, and playing in advance.
Program Platform and Structure
All of our programs are pre-registered and run via Zoom. If you're new to Zoom, do your research on best practices before diving in. You may also find that a different platform (such as Google Meets) works better for your community.
Also, not all virtual programs require the Flipped Classroom approach; offerings where kids can just log-in and connect, play, and laugh together are vital.
Our Flipped Classroom programs are forty-five minutes long and follow the same basic format:
Welcome (greet each child by name)
Zoom instructions and etiquette (how to mute/unmute, etc.)
Warm-up activity, Wonder/check learning ("What do you wonder about this topic?")
Challenges (if there are two challenges, we try and make at least one collaborative)
Share/showcase
Reflection
The Flipped Classroom Model
In our application of this model, kids receive a pre-program email with instructions and some Get Started activities (either via handout or a short video) at least twenty-four hours in advance. These activities take approximately twenty minutes, but many kids opt to spend more time on them. This means the actual program focuses on clarifying key concepts, asking questions, and group challenges.
For a program like "Code Your Own Flappy Bird Game" or "Artificial Intelligence for the Environment" (both of which use Code.org as the platform), the librarian creates a Classroom Section for participants in Code.org, and makes up pseudonyms for each of the registrants. The pre-program email includes:
the program Zoom link and password
a checklist of pre-class activities
login information for Code.org
a handout with specific instructions on pre-class learning
Here are some tips we learned.
Every family will have a slightly different device, from tablets to computers. We include "check that this website works on your device" in the pre-program email.
Some kids won't do the pre-class prep. That's okay. Always allow some time in the program to answer questions about the tools the kids will be using and build in time for review. You can also turn the review over to any resident kid experts by asking them to share their knowledge with the group.
Be prepared and go with the flow. You might not be able to see all the kids' faces all the time, but do your best to read the (virtual) room and modify challenges and timing appropriately.
The Flipped Classroom Model in Practice
1. Augmented Reality (AR)
We help kids see themselves as creators and active users of AR as a tool without them getting bogged down in the minutiae of 3D design. We use a subscription-based tool called 3DBear (www.3dbear.io) for our virtual AR programs. Some of our successful classes include:
Family Augmented Reality: Make Your Own Emoji | Ages 6 to 9
Kids will identify some of the emotions they have experienced recently and create their own emojis using AR. Many of our programs have a SEL (social-emotional learning) component. In this program families have one challenge—to collaborate and create three emojis to express different feelings they've experienced in the past month.
2. Artificial Intelligence (AI)
We aim to help children clarify their ideas of what AI and machine learning are, think critically about how they are being used, and imagine themselves as AI developers.
Artificial Intelligence for the Environment | Ages 9 to 12
What is machine learning? How can AI be used to help our environment? Explore these ideas and more together in this interactive program using resources from Code.org and curiositymachine.org.
In this program, learners are shown examples of technology and asked, "Is this AI?" We use activities from Code.org to open up a discussion on bias in machine learning. Running an AI program can be daunting for staff, but Code.org is a great place to start.
3. The "A" in STEAM
Using tech to explore and make art provides kids with opportunities to do hands-on creative thinking and problem solving. For instance:
Love Where You Live | Ages 9 to 12
Celebrate your love of the North Shore by designing a poster that showcases what West Van means to you. In this program, you'll be using Canva.com and will need to create Canva.com accounts before the class. This program has two challenges. First, kids work together to come up with some slogans, then they use Canva to design posters using free images and elements (such as clip art) that Canva provides. Librarians also create a Google Drive with images the kids are free to use and share the link in Zoom chat.
Fun with Song Maker | Ages 9 to 12 (could be run with younger kids as well)
Collaborate on a song using Chrome Music Lab's Song Maker online tool (https://musiclab.chromeexperiments.com/Song -Maker). You'll work on two parts: the melody and the percussion part. In this program, learners will be using Chrome Music Lab's Song Maker (https://musiclab.chromeexperiments.com/Song-Maker). No account is required to use Song Maker.
This class has two challenges. First, participants are given an emoji and create a melody to match it. Second, participants choose another child's melody and add percussion. Music is shared via links in Zoom chat.
Other free online tools you might want to try: create a comic (www.makebeliefscomix.com), pixel art with Piskel (www.piskelapp.com), and 3D design with Tinkercad (www.tinkercad.com). &
Refbacks
There are currently no refbacks.
© 2021 ALSC