ALSC Member Profiles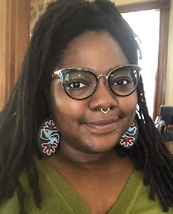 Alia Jones, formerly Sr. Library Services Assistant at Cincinnati and Hamilton County (OH) Public Library, 2020 Caldecott Committee
Why did you join ALSC? I joined in 2017 because I was curious about youth services in libraries on a national level and children's book awards. I first became interested in book awards as a children's bookseller at two indie bookstores in Cincinnati.
What's your best ALSC memory? At ALA Annual 2018 in New Orleans, I attended the board meeting where the Laura Ingalls Wilder Award was changed to the Children's Literature Legacy Award. It was a privilege to listen to the findings of the task force and witness the vote. It was a very emotional and important moment for children's literature, libraries, and Native children. Knowing all the hard work and care that went into the decision and then getting to be a part of that historic moment made me proud to be a member.
What makes you want to be a children's librarian? Before bookstores and libraries, I was an English teacher in South Korea for four years through the Fulbright Program. Being a part of my local community and getting to know my students in and out of the classroom was very rewarding. Working with children is a challenging gift; there's always so much to learn.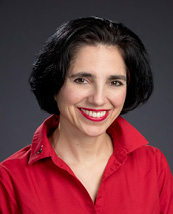 Denise Dávila, PhD, Assistant Professor of Children's Literature and Literacy Education, Language and Literacy Studies, University of Texas
Why did you join ALSC? Being a member is essential to my work and my identity as a children's literature professor, advocate, and enthusiast.
What's your best ALSC memory? Serving on the 2020 Theodor (Seuss) Geisel Award committee. Not only did I learn so much from fellow committee members, I also cultivated new professional relationships and friendships.
What makes you want to be a professor in children's literature? As a child, I never saw characters like myself in children's books. Nevertheless, I took great comfort in reading and re-reading hand-me-down sets of Little Golden Books and Dr. Seuss early readers that my sisters and I shared at home. In elementary school, my favorite part of the day was listening to my teacher read. I loved being swept into very different worlds from my own.
As the first person in my family to attend university, I took multiple children's literature courses and became an elementary school teacher…it wasn't until my early years of teaching that I fully recognized the paucity in books by and for BIPOC communities as I searched for titles reflecting the life experiences of my own students.
Now, as a teacher educator, my primary objective is to support preservice and practicing teachers in not only curating and critically evaluating books by and for BIPOC communities, but also cultivating their own love of reading.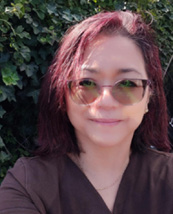 Ann Crewdson, Children's Specialist, King County (WA) Library System
Why did you join ALSC? I joined decades ago, and I've always had great people supporting me. It was a chance to actively be part of the membership, and I had no idea what that was until I was locked in my first award committee. I encourage any new member to take whatever comes to you. If there's a vacancy, research the position first and then step into the role. Do the hard work of the committees you are assigned and the committee of your choice will be yours someday.
What's your best ALSC memory? I am so grateful for all the opportunities for growth. I've been given challenging and rewarding work on committees. So many life lessons. Though I may have changed, ALSC remains world class in its advocacy and its work. I hope to give back. I will never forget the ALSC presidents who allowed my spirit to soar—Gretchen Wronka, KT Horning, Pat Scales, and Nina Lindsay. I owe them my eternal gratitude.
What makes you want to be a children's librarian? Gratification comes from the plum I pluck everyday—the sweetest is in educating infants, children, their parents, grandparents, and caregivers. Also, being a twenty-first-century children's librarian means I can finally start a storytime collection with picturebooks written by BIPOC. &
Refbacks
There are currently no refbacks.
© 2021 ALSC